National Symbols
National Bird: The Flamingo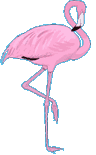 National Fish: The Blue Marlin

National Tree: Lignum Vitae

National Flower: Yellow Elder
Crest of the Bahamas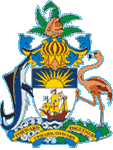 Bahamas Flag

The flag colors are aquamarine-blue, gold, and black. The colors are very symbolic.
Gold stands for the sun and sand
Blue stands for the sea
The black triangle stands for the unity of the Bahamian people, moving forward together.
National Anthem - Read the lyrics and hear a the music for the national anthem.
The official name of the country is the Commonwealth of the Bahamas but it is most often just called the Bahamas.
The name "Bahamas" came from the Spanish word "bajamar", which means "shallow water". The Bahamas is surrounded by shallow waters.
Independence On July 10,1973 the Bahamas became an independent country from the United Kingdom. Capital Nassau is the capital city and is located on the island of New Providence. Geography The Bahamas is an archipelago nation with about 700 islands. About 40 of the islands are populated.
The islands cover an area of about 100,000 square miles.
Although the Bahamas is considered to be part of the Caribbean it is not geographically in the Caribbean. It is located in the Atlantic Ocean.
The Bahamas is right on the edge of the infamous Bermuda Triangle.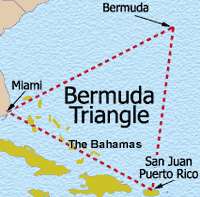 The highest point in the Bahamas is Mount Alvernia on Cat Island.
Main Islands
There are about fifteen main islands in the Bahamas:
Abaco, Acklins & Crooked Island, Andros, Bimini, Berry Islands, Cat Island, Eleuthera, Exuma, Grand Bahama, Inagua, Long Island, New Providence & Paradise Island, Mayaguana Island, Rum Cay and San Salvador.
Take a look at this colorful map of the islands of the Bahamas.
Out Islands
All the Islands of the Bahamas are called Out Islands or Family islands, except for New Providence and Grand Bahama. This is because that is where the two biggest cities are located. Nassau is in New Providence and Freeport is in Grand Bahama.
Population
There are about 320,000 people in the Bahamas and most of them, about 200,000, live in Nassau.
History
On 12 October 1492 Columbus landed on San Salvador, an island in the Bahamas.
Woodes Rogers, the first Royal Governor of the Bahamas, was a former pirate.
Cool Facts
In The Bahamas cars drive on the left side of the road.
Ever heard the song "Who Let the Dogs Out"? It was made by a Bahamian group called the Baha Men.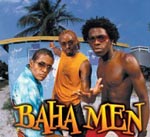 The Lucayan National Park in Grand Bahama has some of the oldest underwater caves in the world.
Lots of people think the Lost City of Atlantis was near Bimini.